News
Please watch and read the attached information about Surviving Distance Learning Parent Training Video Surving Distance Learning Text
Please click below: Hermon High School Parent and Caregiver Support During Our School Closure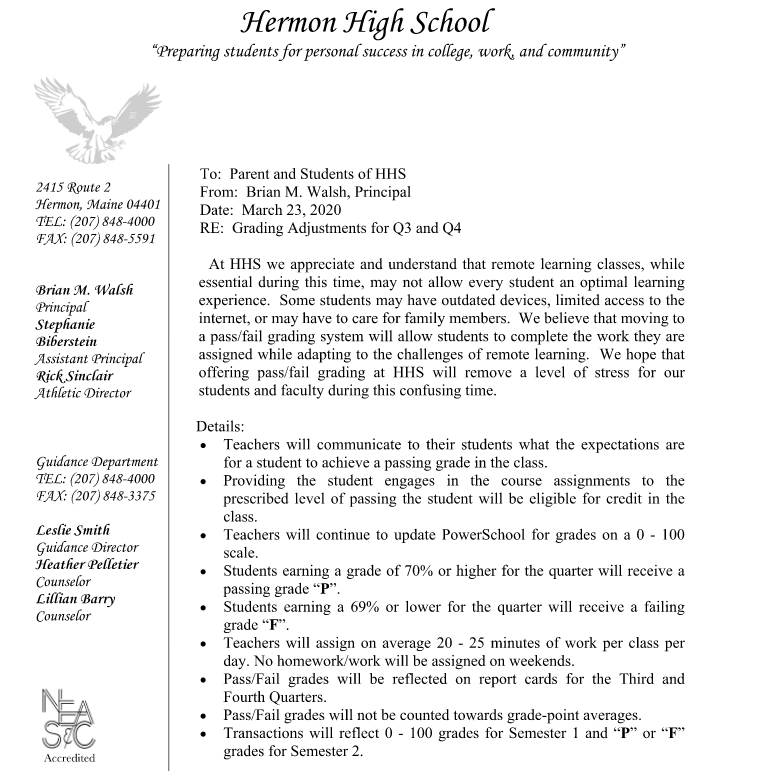 Please find the attached memo on grading. I know for many of us this has been a huge adjustment. Please make sure you are connecting with your teachers through your Google Accounts as well as your...
SEE ALL NEWS
LIVE FEED
Leslie Smith
10 days ago
Announcement from YEARBOOK! We are adjusting to new circumstances and dealing with some events/clubs that are not taking place. PLEASE participate in #CopingWithCovid! This is a historical event and the more fun we have with #CopingWithCovid the better it will make the yearbook and the memories we will have. The idea is to chronicle this historic event and to commemorate the event. Get pictures and spread the word. COVID-19 is a major disruption and these pics are meant to symbolize that disruption. Please be sure and follow social distancing guidelines and have some fun!
view image
Leslie Smith
10 days ago
Registration for classes for 20-21! Extended due to date for registration for classes is now until Friday April 3rd.
Go into Powerschool to register! Need help? Contact your counselor for support on academic advising or how to register. If you do not register, counselors will need to register you for classes. We would prefer that you choose first! We are moving forward with planning and need your help!
view image
SEE ALL posts